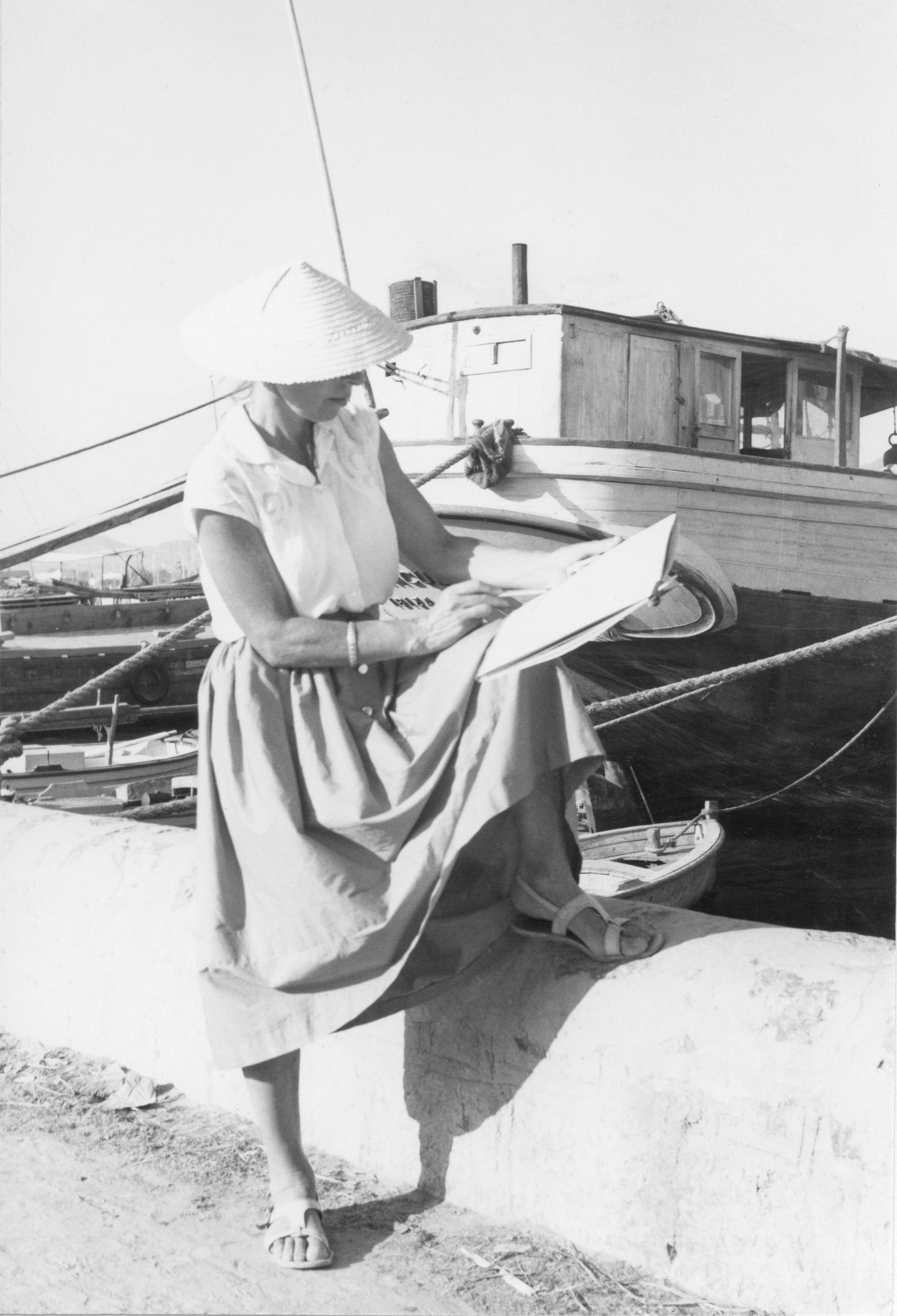 Portrait of Elizabeth Klein-Lacroix, 1957
© Klein-Lacroix

 Elizabeth Klein, American painter, was born on April 19, 1909 in Boston USA, died February 10, 1984 in Paris.
1926-1930 Massachusetts School of Art (MASSART) She was in the painting and drawing section.
1930 Graduated from the Massachusetts School of Art.
1932-1933 She takes a year-long study trip through France, Spain and Morocco with her painter friend Barbara Bigelow. They reside for a few months at the Bahia Palace. In Marrakech and she meets Georges Armand Lacroix sculptor, winner of the Grand Prix of the City of Paris 1932, resident at the Palais de la Bahia. She also meets the Tunisian painter Jules Lellouche, a friend of Lacroix.
1933 Exhibition of watercolors in Marrakech and Fez, Galerie Letellier and Galerie J.E. Laurent with Barbara Bigelow.
1934-1935 Back in the United States of America, she made a series of illustrations for Doctor Free of the New York University, 100 « Poster-charts » to illustrate science lessons. These posters will be used during years at the university.
1935 She travels for a six-month trip through Greece, Egypt, Italy.
1936 She married Georges Armand Lacroix in 1936. They settled at 65 boulevard Arago in Paris 13th (Cité Fleurie).
1935-1939 She is a correspondent in France for the review « The Weeks Science » a science and medicine weekly, edited by Dr. E.-E. Free. She does interviews with scientists, and translations of articles. She is also an English teacher at Berlitz School.
1938 Birth of her first child.
1939 Personal exhibition at the « Club Américain », 261 boulevard Raspail in Paris 14e (Aquarelles du Maroc).
1940 Birth of her second child.
1941 She leaves Paris in February 1941 for the United States of America with her two daughters.
1942-1946 She works and lives in New York with her husband who joined her. She works for the « Jordanoff Corporation » to produce illustrations intended for the army for technical maintenance books, manuals for C54, B20 and B29 aircraft, as well as for the Norden sight, transport ships and diagrams of radars.
1947 Back in France, she is an English teacher at Berlitz School. From that time, she drew views of old Paris.
1949 She goes to Provence with her husband, the winner of the Lourmarin foundation of the Aix-en-Provence Academy, and does many paintings there.
1950-1955 Different stays in Spain and France in Lourmarin during which she paints and draws.
1955 Group exhibition « American painters in France » at Pershing Hall, Paris 8th.
1957 One-year trip to Madagascar. She supports Armand Lacroix, winner of the Madagascar Prize. Exhibition with Armand Lacroix at Tananarive City Hall of paintings and drawings made during the stay.
1959  Group exhibition for the benefit of the victims of Madagascar. Former hotel of Madame de Pompadour, 78000 Versailles.
1961 Stay in Algeria. She accompanies her husband, winner of the Dumoulin Prize, and paints there.
1962 Group exhibition at "la Galerie du 16e" inauguration of the France Madagascar Artistic and Literary Center, Paris 16th.
1965 Group exhibition, Galerie Gaveau, Paris 16th.
She participates in other group exhibitions with the France Madagascar club. During her travels in Greece, Spain and France, she will continue to paint and draw.
1970 She actively participates in the struggle to save the Cité Fleurie with her husband Georges Armand Lacroix, president of the association (1970 to 1982). It is a period during which they welcome in their studio many visitors and groups, thousands of visitors were able to admire its drawings and paintings.
She was:
Honorary member of the Lourmarin Foundation, Robert Laurent-Vibert.

Member of the Taylor Foundation.

Member of the Cité Fleurie safeguarding association from 1970 to 1984.